Our show opens with Scott and Fricking Fees.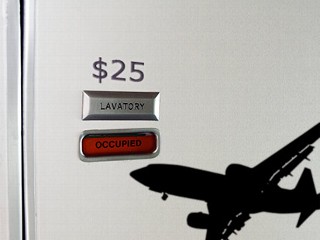 Last week it was bank fees, now the airlines! Who and what will be next?
Spirit Airlines is now charging $45 for a carry on bag that will be placed in the overhead compartment. How dare they! If you are displeased or outraged about this fee, please feel free to call Spirit Air - CEO Ben Baldanza 954-447-7965, or email him at:
Ben.Baldanza@spiritair.com
.
RyanAir starts charging for use of the lavatory. This is so they can take out 2 out of 3 restrooms and add 6 extra seats. If you are really interested in calling the CEO to complain, Michael O'Leary can be reached
(this is an international number and you will need to check the access code from your phone company) by calling: +35312480856. Tell Michael that you will NOT put up with his fee. It should be noted that RyanAir doesn't not have operations within the United States nor to or from.
What kind of fees will they dream up next?
Reclining fees, use of floatation device fee, sitting near the emergency exit fee?
Listen to our aftercast for Scott's useful information on cool websites for travel planning and in flight fees.
Elaine's Amazing Deal of the Week is found at www.restaurant.com. With FREE registration, this site will send you emails on their specials each week. The email Elaine received was advertising 70% off their regular price of $10 for a $25 certificate. She discusses how the deals work, and creative ways to use the certificates. Take a friend, your spouse or give to someone who really needs a night out for dinner. Listen to the podcast for ALL the particulars and how Scott and Elaine have used the certificates.
Listen to Episode 2 by clicking
HERE